On Friday, May 3, 2013  a group of Owens Valley Committee (OVC) members including Mark Bagley, OVC Executive Director; Harry Williams, Bishop Paiute tribal member; Nina Weisman, OVC volunteer; Jackie Velasquez, Big Pine Paiute Tribe environmental technician; Jenna Cavelle (PAYA film), Kim Stringfellow, There It Is—Take It! producer and others attended a LADWP tour of several city of Los Angeles water reclamation facilities including Tujunga Spreading Grounds, the Elmer Avenue neighborhood stormwater capture/retrofit in Sun Valley and the in-construction Headworks Reservoir in Burbank. Our final stop was a visit with LA councilmember, Tom LaBonge at city hall.
This tour resulted from a personal invitation by LaBonge to Harry Williams, OVC members and other Owens Valley community activists after LaBonge encountered a group of demonstrators and concerned citizens during a LA Aqueduct Intake Centennial event he was attending at the Eastern California Museum in Independence, CA on February 8th, 2013.[1] That day, after speaking directly with the demonstrators, LaBonge pledged to host a delegation from the Owens Valley to observe the water conservation efforts of the LADWP firsthand.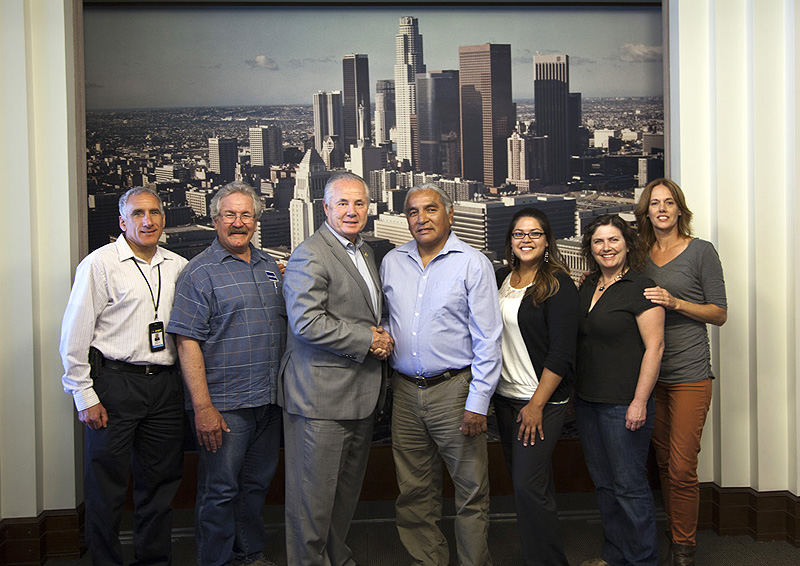 Pictured: LADWP representative (far left), Mark Bagley (2nd from left), Tom LaBonge (3rd from left), Harry Williams (middle),  Jackie Velasquez (3rd from right), Nina Weisman (2nd from right), Kim Stringfellow (far right).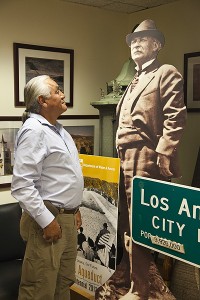 About the OVC: The Owens Valley Committee is a non-profit citizen action group dedicated to protecting the natural resources of the Owens Valley by monitoring water and land management, educating the public, and encouraging participation in local government. OVC is dedicated to citizen involvement and has been active in Owens Valley water issues since 1984. For more information, please visit: http://www.ovcweb.org/.
[1] Jon Klusmire, "Not Everyone is celebrating," Inyo County Register, February 11, 2013.